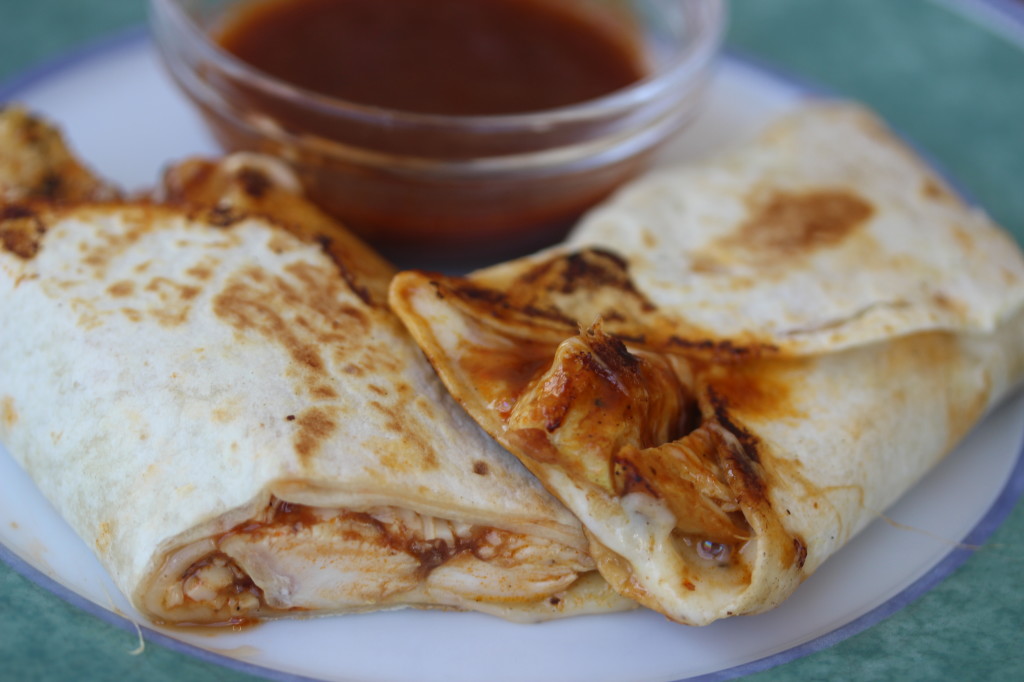 Take any kind of  cooked chicken (grilled, sauteed, roasted) grill it on a wrap with a little tomato sauce and cheese and you have a delicious quick weeknight dinner.  Yummy!!!!
Chicken Parmesan Wraps
Author: Julie Boyle
Prep time:  
Cook time:  
Total time:  
Serves: 4
Ingredients
1 pound cooked chicken breast
2 cups marinara sauce
8 slices provolone or mozzarella
½ cup shredded parmesan
4 large tortillas or your favorite wrap
Instructions
Any kind of cooked chicken works, roasted chicken, grilled chicken, sautéed chicken. If the chicken is cold, heat it up in a non stick pan for a minute until it is warmed through.
On a wrap, place two slices of cheese in the middle.
Place ¼ of the chicken on top of the cheese.
Drizzle 2 Tbsp of marinara over chicken. Do not put too much sauce or it will get soggy.
Sprinkle parmesan on top.
Fold the tortilla so that the left and right side totally cover the chicken. Press down to close it like a book and secure with 2 toothpicks. Repeat with remaining tortillas.
Heat a nonstick pan on high and place the wrap in the pan. Cook on medium until the bottom of the wrap browns and cheese starts to melt. Flip and continue to cook until the other side is browned and the cheese is melted all over.
Slice in half and serve with extra marinara to dip on the side.